New Jazz Series
JAZZ ON BLEECKER
STREET
At the
SHEEN Center
In The Heart of Historic Greenwich Village
Four Great Jazz Shows
Series Begins

February 10, 2017
JAZZ ON BLEECKER
STREET Line Up
Feb. 10 & 11

- KIRK WHALUM #LoveCovers with special guest: Lindsey Webster

March 11th- KENNY WERNER & WADADA LEO SMITH
March 23rd

- ROGER KELLAWAY & PETER BEETS: The Many Moods of McCartney

April 21st- Elegantly Brazilian with the Requinte Trio
JANIS SIEGEL-NANNY ASSIS-JOHN di MARTINO
Special Guest: RANDY BRECKER
All Shows

7:30 pm

In The
Loreto Theater
Pat Philips-Stratta: Curator and Producer
The SHEEN CENTER FOR THOUGHT & CULTURE, a new state of the art Performing Arts Center in the East Village/NoHo announces the launching of their new JAZZ SERIES, 'JAZZ ON BLEECKER STREET', a new home for some of Jazz's finest! The beautiful 270-seat theatre will present a wide variety of Jazz genres and aspire to showcase original sides to America's national treasure, Jazz.
Feb. 10 & 11

-
KIRK WHALUM #LoveCovers with special guest: Lindsey Webster
7:30pm
To start the series on Feb. 10th and 11th will be the very talented Grammy Award winning saxophonist KIRK WHALUM with his 'All-Star Band' for two nights of beautiful love songs honoring Valentine's Day.
The concerts will consist of music from his latest album release entitled #LOVECOVERS .
Whalum draws inspiration from many genres of music – pop, gospel, folk, but especially the expressive playing of John Coltrane.
Lindsey Webster is the Special Guest.
Tickets & Info
March 11th- KENNY WERNER & WADADA LEO SMITH

7:30pm










On March 11th 'THE ART OF THE DUO' with two top Jazz Masters, KENNY WERNER on Piano and Trumpeter WADADA LEO SMITH, an intimate pairing of great musicians for the first time. Of Werner, Nate Chinen of the NY Times says " a Pianist who tempers fearsome technique with a questing spiritualism"…Also from the New York Times " Mr.Werner is a clear virtuoso and when he solos, there is wit everywhere. " Smith is a trumpeter and Composer at the forefront of creative music…trumpet mastery…a player of great gifts"…Downbeat Magazine
Tickets & Info
March 23rd

- ROGER KELLAWAY & PETER BEETS
The Many Moods of McCartney
March 23rd

"The MANY MOODS OF McCARTNEY' features Grammy Award winning Oscar nominated Jazz Pianist/Composer master ROGER KELLAWAY and Holland's top Jazz Pianist PETER BEETS in a TWO –PIANO and Trio performance showing off the magical music of Sir Paul McCartney, the legendary classic and pop tunes that are part of the soundtrack of our lives and are musical history ! Oscar Peterson said "Kellaway is one of the great Jazz Pianists of the world ."…Beets known for a mastery of the style and songs of Oscar Peterson is a European star now excitedly welcomed in the US.
Jay Leonhart on Bass and Ron Krasinski on Drums
Tickets & Info
April 21st-
Elegantly Brazilian with the
REQUINTE TRIO
JANIS SIEGEL-NANNY ASSIS-JOHN di MARTINO
Special Guest: RANDY BRECKER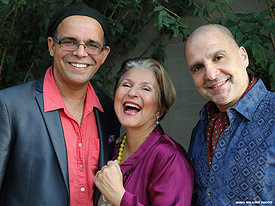 April 21st "Elegantly Brazilian" with the REQUINTE TRIO (and Band) combines JANIS SIEGEL, renowned vocalist
and founding member of
'The Manhattan Transfer", NANNY ASSIS ,the very talented Percussionist/Vocalist/Composer who is a native of Salvador, Bahia, and JOHN di MARTINO, one of the most in-demand Jazz Pianists on the scene. They bring together the musicality born of their varied cultures and musical experiences creating a soulful blending of enormous talent. It's an elegant taste of Brazil with Paul Meyers on Guitar and Leo Traversa on Bass.
Special Guest: RANDY BRECKER
Tickets & Info
SHEEN CENTER Named after the late Archbishop Fulton J. Sheen, best known for his popular radio and TV ministry in the 1950s and 60s, The Sheen Center for Thought & Culture is a project of the Archdiocese of New York with the mission of showcasing works in the performing and visual arts, lectures and symposia that highlight the true, the good, and the beautiful as they have been expressed throughout the ages. The state-of-the-art complex has a 270-seat proscenium theater equipped with five-camera high-definition livestream capability and a multi-track recording studio with thirty-two onstage inputs; an 80-seat black box theater; four rehearsal studios; and an art gallery. This facility is the newest arts center in Manhattan in 35 years and a great addition to the growing artistic community in the East Village/NoHo.