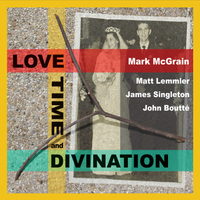 Jazz originals and standards performed by New Orleanians Mark McGrain (trombone), John Boutté (voice), Matt Lemmler (piano), and James Singleton (bass).
Mark McGrain (founder and leader of the group PLUNGE) pilots a group of New Orleans modern jazz virtuosi through a collection of new compositions presented along-side selections from the American songbook and a soulful reworking of a Pink Floyd classic. Lauded "Voice of Treme," singer John Boutté joins McGrain's lyrical trombone along with the, at times lush and at other times striding saloon piano accompaniment of Matt Lemmler and the adventurous, driving contrabass of James Singleton. Love, Time, and Divination marks a change of course for McGrain (at least temporarily) toward song form, melody, and harmonically relevant improvisations—it is an album of unabashedly beautiful music performed by consummate jazz artists; all tracks were recorded on August 14, 2017 at Esplanade Studios in New Orleans by legendary engineers Misha Kachkachishvili and John Fishbach (mastering).
The 11 tracks on Love, Time, and Divination cover a wide range of musical styles from New Orleans stride piano and trombone duets to modern, rhythmically stirring swing, bossa nova, gospel, and even salsa melodies—at once memorable, smart, and very soulful at every turn.
Vocalist John Boutté, who Nate Chinen in the NY Times said "[exudes] New Orleans feeling: the bonhomie and pride along with the heartache," and Larry Blumenfeld, in the Village Voice referred to as "New Orleans' best-kept secret, and possibly its strongest voice," joins the trio on the McGrain original "It All Comes Down To Love," a swinging version of the Van Heusen/Mercer standard "I Thought About You," and a soulful rendition of David Gilmour's Pink Floyd classic "On The Turning Away." Pianist Matt Lemmler spent time performing nightly and touring with legendary clarinetist Pete Fountain. The great jazz composer and pianist Dave Frishberg called Matt "a pianist of rare originality and a point of view about standard songs that's always surprising and often quirky." Matt and Mark both work together regularly in John Boutté's band. Bassist James Singleton has been a key contributor to McGrain's quartet and Plunge efforts over the past twenty years. He has also performed with countless jazz artists including John Scofield, John Medeski, Eddie Harris, Lionel Hampton and many others. Mark McGrain, leader of the critically acclaimed contemporary jazz group PLUNGE www.plunge.com, has been called "soulful, vivacious. A daring trombonist" by DownBeat Magazine and "[one of] the most forward-leaning musicians in New Orleans" by Tom Jacobsen, (www.NewOrleansNotes.com). Journalist Scott Yanow wrote in JAZZIZ, "McGrain proves that jazz trombone, while still owing a debt to J.J. Johnson, has traveled far during the past 70 years."
What the critics say about Mark McGrain's "Love, Time, and Divination":
"Besides the stellar quality of Mark McGrain's playing (as ever, warmly engaging and technically bombproof), Matt Lemmler, James Singleton provide accompaniments in a special class. The beautiful, slow-dragging of Mr. Singleton's bass on "I Thought About You" as Mr McGrain -- mute firmly in the bell -- glides on, and the deeply meditative "I Ca't Get Started", a masterful duet highlighting Mr. Lemmler's marvelous pianism are delivered throughout -- as is everything else -- with spell binding loveliness. An album to absolutely die for." --Raul da Gama, www.jazzdagama.com