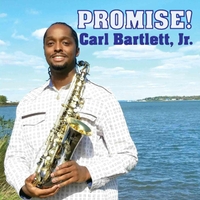 - The 1st Place Winner in the USA (2nd in the world) in the prestigious 2015-2016 International Songwriting Competition (ISC), Jazz Category!***
PROMISE!
(Band Lineup):
Carl Bartlett, Jr. - alto saxophone
Yoichi Uzeki - piano
Marcus McLaurine - bass
Sylvia Cuenca - drums
Charles Bartlett - Special Guest, trumpet (tracks 5 & 8)
The heavily anticipated sophomore Jazz album by the young saxophonist has arrived with a major bang! An exceptionally creative, gripping, and, at times, boundary-pushing offering that moves the spirit (mightily), and stimulates the intellect.