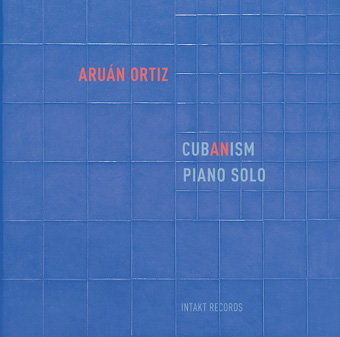 .
Aruán Ortiz: Piano solo
1. Louverture Op. 1 (Château de Joux) 5:59
2. Yambú 3:31
3. Cuban Cubism 10:46
4. Passages 7:46
5. Monochrome (Yubá) 3:33
6. Density (Golden Circle) 4:51
7. Dominant Force 2:32
8. Intervals (Closer to the Edge) 3:42
9. Sacred Chronology 3:24
10. Coralaia 5:25
Total Time: 51:58
All compositions by Aruán Ortiz.
Recorded December 3, 4, 2016, by Martin Pearson at Radio Studio, Zürich.
Mixed and mastered by Martin Pearson.
Cover art: Gottfried Honegger. Grafic design: Jonas Schoder. Liner notes: Florian Keller. Photos: Francesca Pfeffer.
Produced and published by Intakt Records, Patrik Landolt.
In cooperation with Radio SRF 2 Kultur.
The acclaimed Cuban pianist and composer Aruán Ortiz, considered "an avatar of creative and progressive improvisation" (Ted Panken, Jazztimes Magazine) and a "first-rate" pianist (Nate Chinen, WBGO Jazz Radio), releases his solo piano album titled "Cub(an)ism". This album was recorded by the engineer Martin Pearson in December 2016 at the Swiss National Radio in Zürich and produced by Intakt Records.
"Cub(an)ism is the result of an in-depth conversation with a range of musical idioms and styles, and various experiences from the phases of Ortiz' life, in Cuba, Spain, France and the USA, which have formed his eclectic concept of music.
On this album, Ortiz' pieces arise from specific ideas and moods, developed imperceptibly along systematic constructions spiked with the unexpected. Despite a certain adherence to system, the music on Cub(an)ism remains sensual at all times. Using clear but flexible systems, the music lives from structure and surprise. Crystalline structures are abruptly
dissolved, clear forms blurred like a reflection in stormy water, before resurfacing. Ortiz' music breathes this magic, the allure of dancing structures".
(Florian Keller, liner notes)
Since his arrival to the international jazz scene, Aruán has played, recorded or toured with Esperanza Spalding, Greg Osby, Andrew Cyrille, Cindy Blackman-Santana, Terri Lyne Carrington, Oliver Lake, Don Byron, Rufus Reid, Wadada Leo Smith, and Wallace Roney, to name a few.
(Intakt )