Irène Jacob
CD Release Show
En bas de chez Moi
Tuesday, February 28th 9:30pm
Joe's Pub
The Public Theater
425 Lafayette Street
New York, NY 10003
Tickets: 212.967.7555
Online: Tickets & Info
Listen On Soundcloud
Actress Irène Jacob and guitarist Francis Jacob craft welcoming, worldly pop on "En Bas De Chez Moi", celebrating their release live at with lives appearances in Canada and the US.
French lyrics with a flair of world music, the siblings, backed by Senegalese bassist Mamadou Ba and
percussionist Alioune Faye,
will deliver a set of original music and a few covers from French folk singer Georges Brassens.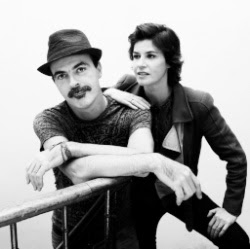 IRENE JACOB
Irène was awarded in 1991 the prize "Best Actress" at the international Cannes festival for her performance in The Double Life Of Véronique by K. Kieslowski. in 1993, the polish film director features her in Red, in his trilogy Bleu, Blanc, Rouge, along with Jean-Louis Trintignant, Juliette Binoche and Julie Delpy.
Irène is leading a successful international career. She has worked with directors such as Antonioni, Win Wenders, Paul Auster, Angelopoulos, Louis Malle...
She is currently appearing in Showtime's "The Affair", portraying the French Professor Juliette Le Gall.
Irène has a very special connection to music. On a theatre stage or a movie set, Irène is always close to the musical world. She has been recording with the National Jazz Orchestra, French star Vincent Delerm, Brazil's wonder kid Ricardo Tete, among others.
Francis Jacob is a traveling musician. From France to Brazil, from Africa to Brooklyn, where he settles in 1991.
He composes, plays and records for a wide array of West African stars from Senegal, Mali, Guinea or Togo. Blending his Jazz roots with these experiences, he finds himself at the center of the "World Jazz" movement.
In 2007, his album Side-by.Side gets great reviews.

"The actual music of Side-By-Side is so pleasant, light on its feet, buoyant and just plain attractive as to give one hope for the future of this earth."
Budd Kopman, All About Jazz

His approach to writing and playing music reflects a highly varied musical career, from Jazz to Brazil, from Moroccan Shaabi to Senegalese M'Balax.
Previous Album
Irene Jacob Je sais nager
Sunnyside SSC3090
"As a vocalist, Ms. Jacob is witty, funny, beguiling, persuasive, charming, melodic and more; quietly beautiful, mesmerizing and hypnotic."
County Times

"One doesn't need to understand French to feel the power, passion and beauty of their music."
County Times

"A wonderful confection that would be right at home on the left side of 60s go go music. Loaded with contemporary touches, it's attitude is old school, but primed for modern ears. One of those wild records that exists in a time zone all it's own, it's hard to imagine being a world weary hipster without this on your mp3 player. Defining cool throughout."
Midwest Record

"Genres like swing, chanson, folk and afro pop glide in and out of the songs, making this as bohemian as Madeleine Peyroux's debut disc. This has the similar feel of suave experimentation without presumption or ostentation, with a clear sense of inquisitive musicality. Romantic, yes,the mood is all throughout. I have no knowledge of the French language, but volumes is relayed here without a cognitive word."
George W. Harris, Jazz Weekly

"This CD is truly a relaxing and enjoyable listen to any person that can appreciate music in all of its forms. It's a shame there aren't enough artists making attempts to produce records from their own cultures and trying to plug them into the mainstream of the music industry in America like these musicians have."
Johnny Cohn, The Aquarian