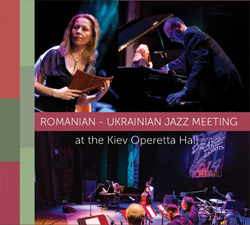 "Romanian-Ukrainian Jazz Meeting at the Kiev Operetta Hall"
new album by Pianist Florin Raducanu to be released September 10th
On his sixth release Florin Raducanu mixes the deep traditions of jazz with classical music and Romanian folk themes joined by a lineup of notable Ukrainian musicians: Valentin Kornienko – double bass, Vitaly Bajora – drums, Kiev Saxofone Quartet directed by Yuri Vasilevich and Special Guest Dalila Cernatescu – panflute
The live performance has been recorded during a concert at the 13th International Festival of
Jazz "Ednist" (Unity) in Kiev in 2014, one of the few musical events held in Ukraine's capital that has not been canceled or postponed due to the political context of the moment.
"The organizers provided a very good sound quality and a brand new Steinway piano on which I played "Chopin on jazz" again. Both me and Dalila Cernatescu were impressed by the audience response in Kiev who always supported us, that electrifying atmosphere being now immortalized on the recording." says Florin Raducanu.
The remarkable synergy among musicians of both countries made this concert unique, One of Raducanu's strengths is his ability to work with various band structures from small combos to large big bands and symphonic orchestras.
He applies a distinctive touch to all compositions which benefit of his high command of jazz, classical and folklore fusion, while Dalila Cernatescu on panflute finds the perfect way to warm the heart of the listeners with enchanting interventions followed by fiery band improvisations.
Embracing with spontaneity feel and emotion a diverse stylistic palette, Romanian and Ukrainian musicians united on this collaborative project prove once more that jazz has no fixed geography, rising freely above borders and disruptions.
Romanian-Ukrainian Jazz Meeting at the Kiev Operetta Hall (Art Factory 2015)
Tracks:
1. Chopin Scherzo re-imagined in jazz 6:33
2. Summer Twenty Twelve 4:41
3. Romanian Traditional free re-imagined 7:34
4. Impressions (cont. track 3) 6:23
5. Romanian Breaza re-imagined in jazz 5:51
6. Concert Samba 7:59
Total Time : 39:01
About Florin Raducanu
Over the years, Florin Raducanu initiated many projects in which he performed with his trio, sextet, big band and symphonic jazz orchestra, playing his compositions and jazz standards.
In 2007, he collaborated with the "Sibiu Philharmonic Orchestra", to produce
a Third Stream project for his "Tribute to Mary Magdalene" and "Mapamond Pictures"
compositions. He was the composer,conductor/pianist of this symphonic jazz project
and later in the same year, the "Romanian Radio Society" invited him to perform in a
concert with the "Radio Jazz Big band & Chamber Orchestra", which was broadcasted
in 13 European countries.
Raducanu played abroad in Europe and Asia. In May 2009, he was part of a Romanian-Dutch collaboration with saxophone player and Amsterdam professor Jasper Blom.
In September 2009, Raducanu was invited to play classical jazz projects with his
16-musician orchestra "Florin Raducanu & Classical Troubadures Orchestra" in
the most important classical music festival in Southeastern Europe, the "George Enescu International Festival".
He was part of the 2008 "Sibiu Jazz Festival" and the 2009 Akademy Seny (Kuala
Lumpur, Malaysia) jazz masterclass.
Some of his awards include the Muzza Foundation Prize for Jazz - 2004, the Prize
Jazz of "Cuvântul" magazine - 2005, the prize for Jazz arrangements of the "Romanian
Radio Broadcasting Society" and the prize for Jazz Symphonic Composition of the
Romanian Union of Composers and Musicologists - 2007.
In 2009 he won the Jazz musician of the year award in Romania.
In 2010 he presented his "Improvisations about music of the world" project at the
famous Vienese jazz club "Porgy &Bess", as well as in Graz city.
His album "Florin Raducanu plays Beethoven, Chopin, Enescu on Jazz" is promoted
on international jazz websites such as: "Jazz Corner", "Jazz Review" (USA) and
"JazzWorldQuest" (Canada).
Raducanu's album "Revealing the Romanian Traditional Music on Jazz" was Jazz
Album of the Year 2011 in Romania.
In 2014 he was invited in Kiev, Ukraine, to perform toghether with Ukrainian jazz
musicians in Ednist Jazz Festival. The project was called Romanian–Ukrainian
Jazz Meeting. On this occasion he was invited to give a masterclass for students
of the "P. I. Tchaikovsky" Academy of Music in Kiev.
Also on April 30, 2014 Florin Raducanu was invited to celebrate the "Jazz Day" in a
concert at Porgy & Bess Jazz Club in Vienna, Austria. In 2015 he released a new album
together with Romanian Radio Big Band called Florin Raducanu Live Jazz Portret.
Florin Raducanu Official website
http://jazzworldquest.com/florin_raducanu
Digital Download of the album
About JazzWorldQuest
Since 2006 JazzWorldQuest.com is a promotional platform dedicated to jazz and world music from all over the world maintained by JazzWorldQuest Productions, Montreal, Canada.
http://jazzworldquest.com