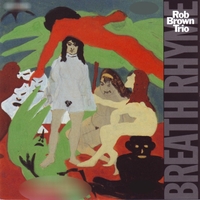 "Breath Rhyme establishes a high level of creativity right from the first few minutes of Firewalk and maintains it for over an hour. This is one of the best trio record I've heard in some time. It makes a strong case for Brown's place amongst today's better alto improvisers and is another unqualified winner for Silkheart. His Breath Rhyme is an artistic triumph."
Carl Baugher, Cadence, May 1991
Rob Brown alto saxophone
William Parker bass
Dennis Charles drums
Watching this trio in the studio was fascinating. For a fledgling leader, Rob Brown was almost eerily calm. (Technically this is his second album, but his first – Sonic Explorations, co-led with pianist Matt Shipp, for Cadence Jazz – had been privately recorded and then sold. So this was his first real studio date.) Brown quietly went over cues and solo orders with his rhythm section, and proceeded methodically from one composition to the next without pausing for many playbacks. He was undistracted by the trickle of kibitzers and fellow musicians (like tenorist Frank Lowe) who stopped by to check him out. But when Brown took up his alto and hollered on his horn – he'd lean back, bending his knees and rising on his toes, like a basket player at the foul line – another side of him poured forth. It's as if there's a part of him down deep only music can touch.