Acclaimed Actor, Comedian,
Voice Over Artist, Radio Personality
Returns to his Jazz Vocalist Roots
with New CD
"If Love Were All"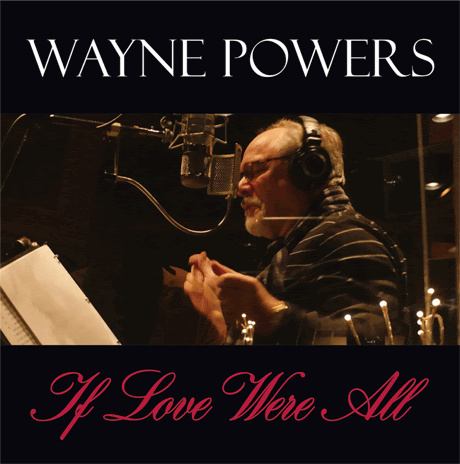 Life goes by too quickly. It's hard to believe that it's been 25 years since Wayne Powers recorded his last CD, "Plain Old Me" with his Los Angeles "Hoi Polloi" band in 1993. But simple math can be unforgiving. In the intervening quarter century, Powers' life has been full with both the poignant and the joyous — as all lives are. Over the last few years, Wayne has been busy working on getting his "chops" backup with the idea of returning to the studio and giving voice to the last 25 years of life and love as he's lived it and felt it. "I've got so much inside me still left unsung," says Powers, "and so, with The Great American Songbook as my script, I've chosen some truly classic, compelling tunes which speak deeply to me and, hopefully, to you. Some you'll know and a few you may not be familiar with — yet."
The result is Powers' personal yet universal saga of love lost and love found. We've all been there. Each tune on this album explores with authenticity a different aspect of an eternal story you're sure to recognize. There's a choice array of torch songs, or what Wayne and other crooners call 'Saloon Songs' — heartfelt ballads that will bring to mind a jukebox, wet quarters and soggy dollar bills in some dimly lit bar room. And then there are those uplifting tunes of love's pure, unbridled joy. It's all captured on this album. Wayne says, "I'm excited and honored to work with some top-flight jazz musicians on this live-in-studio recording: Ziad Rabie, Sax. Keith Davis, Piano. Ron Brendle, Acoustic Bass. Al Sergel, Drums." This is a magical combination of talent that makes each of the 14 tunes sparkle and resonate in their own unique way. Powers invites you to "...share in the musical and lyrical truth, love and joy which we all brought to this special project, appropriately titled, "IF LOVE WERE ALL."
The album will be available for digital download on most major online music platforms, as well as a CD — and as a limited edition 180-gram audiophile vinyl double LP.
​Artist: WAYNE POWERS
Title: IF LOVE WERE ALL
Label: KABOCKIE RECORDS
Artist Website:
http://waynepowers.com/wpwp/25-years-is-long-enough/
Release Date:

AUGUST 3, 2018


UPC Code: 8-88295-77835-0
Track listing and Running Time
1. Never Let Me Go -

2:51

Livingston/Evans
2. You've Changed -

3:14

Carey/Fischer
3.All Of Me-4:12 Simons/Marks
4. Body And Soul -

3:54

Green/Heyman/Sour/Eyton
5. Lush Life -

3:33

Strayhorn
6. When Your Lover Has Gone -

4:26

Swan
7. Willow Weep For Me -

4:22

Ronell
8. You Don't Know What Love Is -

4:28

de Paul/Raye
9. If Love Were All -

2:29

Coward
10. Just in Time -

3:04

Styne/Green/Comden
11. East Of The Sun (West of the Moon) -

3:17

Bowman
12.IOnlyHaveEyesforYou-3:28 Warren/Dubin
13. Time After Time -

3:28

Cahn/Styne
14. Smile -

3:30

Turner/Parsons/Chaplin

Ron Brendle acousti- bass
Al Sergel-Drums

Available From: Amazon • CDBaby • iTunes