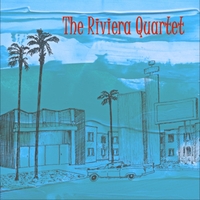 Bossa Nova, Blues and Bebop - inspired originals capturing the essence of 1960s French Riviera. Music for that long, sunny drive from Nice to Monaco... or Los Angeles to Monterey.
Described as having, 'a sound one can absolutely luxuriate in,' The Riviera Quartet aim to capture the essence of early 1960s Dizzy Gillespie/Lalo Schifrin on the French Riviera with original compositions that draw as much from AC Jobim as they do from Horace Silver, but with a contemporary twist. The mission statement: to bring the combined energy of Bossa Nova, Blues and Bebop to new listeners and to build a broad audience. Imagine driving along the highway from Nice to Monaco, or even Los Angeles to Monterey, in a convertible – this is the music you would listen to.
American trumpet/flugelhorn player Pete Tanton is joined by British musicians Mark Williams on guitar, John Pope on bass and Russ Morgan, drums on this debut recording which captures some of The Riviera Quartet's live show as well as some classic studio takes.