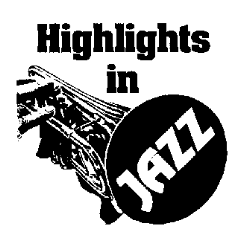 Jack Kleinsinger's Highlights In Jazz
New York's Longest Running Jazz Concert Series

The Highlights In Jazz 46th Season continues

Thursday, May 10th 8pm

All-star lineup featuring: Pianist Dick Hyman • Trombonist Wycliffe Gordon •
Bassist Jay Leonhart • Saxophonist/Clarinetist Ken Peplowski •
Drummer/vibraphonist Chuck Redd • Plus A Special Surprise Guest!
Only at BMCC TRIBECA
Performing Arts Center
Borough of Manhattan Community College
199 Chambers Street, New York, NY 10007
Tickets & Info
Jazz fans know they can count on the Highlights In Jazz concert series to showcase the gifted players who shaped jazz history and continue to contribute to its long and rich legacy. This third concert of the 46th season is no exception: The music is sure to dazzle – and swing – when you have such renowned musicians on hand as pianist Dick Hyman, trombonist Wycliffe Gordon, bassist Jay Leonhart, saxophonist/clarinetist Ken Peplowski, and drummer/vibraphonist Chuck Redd.

Listeners will benefit from this stellar aggregation's more than 200 years of combined jazz experience when these players hit the stage.

At 91, pianist Dick Hyman, is a mainstay of the series and a 2017 NEA Jazz Master. In the mid-1940s, Dick won a dozen piano lessons with the great Teddy Wilson in an on-air radio competition; by 1950, he was touring Europe with Benny Goodman's orchestra. Since then, he's repeatedly demonstrated his versatility, mastering multiple facets of jazz. Dick has also written film scores and orchestral compositions, made countless concert appearances and released well over 100 albums as a leader. He landed seven Most Valuable Player awards from the National Academy of Recording Arts and Sciences for his studio work, plus two Emmys for his TV work. Dick was also among the first musicians to record with a Moog synthesizer.

Among the illustrious friends joining Dick Hyman on the BMCC stage during this special event:

Trombonist Wycliffe Gordon first landed on jazz listeners' radar in 1989 as part of Wynton Marsalis' Septet; he was an original member of the Jazz at Lincoln Center Orchestra, starting in 1995 . Wycliffe has performed with David Sanborn, Rene Marie, Dianne Reeves, Anat Cohen, Arturo Sandoval, Dizzy Gillespie, Lionel Hampton, Tommy Flanagan, Shirley Horn, Joe Henderson, and Eric Reed, to name just a few. The trombonist has released close to three dozen CDs as a leader or co-leader, and is a perennial winner of "best trombonist" honors from numerous publications and professional organizations.

Bassist Jay Leonhart was dubbed "the Fred Astaire of jazz" by the L.A. Times' Don Heckman, who described him as "a craftsman so seamlessly smooth that casual observers often fail to grasp the immensity of his talent." Jay has kept good musical company throughout his career, having performed with Duke Ellington, Peggy Lee, Mel Torme, Jim Hall, Buddy Rich, Roy Eldridge, and other jazz greats. The bassist is also lauded for his singing, composing, and witty lyrics. Though one of Jay's best-known tunes is called, "It's Impossible to Sing and Play the Bass," he does both with great skill, much to the delight of audiences.

Saxophonist/clarinetist Ken Peplowski had his first pro gig while still in elementary school, playing in a Polish polka band in his native Cleveland. From that moment, he knew a life in music was his destiny. Ken studied with Sonny Stitt, and played with classic bands like the Tommy Dorsey Orchestra and with Benny Goodman. He's also collaborated with Mel Torme, Charlie Byrd, Peggy Lee, George Shearing, Hank Jones, Dave Frishberg, Rosemary Clooney, Tom Harrell, James Moody, Cedar Walton, Houston Person, and Bill Charlap. Ken has released several albums as a leader and appeared on more than 400 recordings as a sideman.

Drummer/vibraphonist Chuck Redd is a veteran musical road warrior, with more than two dozen European tours under his belt with the likes of Charlie Byrd, Barney Kessel, Terry Gibbs, Conte Candoli, and others. Chuck has appeared with Dizzy Gillespie, Mel Torme, the Lionel Hampton Big Band, Tommy Flanagan, Ray Brown, and the Clayton/Hamilton Jazz Orchestra. The drummer/vibraphonist has released several albums under his own name, and appeared on scores of others with Nicki Parrott, Harry Allen, Houston Person, John di Martino, Ray Drummond, and others.

The special guest—a trademark of this long-running concert series—is a well-kept secret until curtain time. A spectrum of jazz greats have filled the role, from the venerable Eubie Blake to the 15-year-old John Pizzarelli—the celebrated guitarist's first Highlights In Jazz appearance. Sometimes there are even extra-special guests: Producer Jack Kleinsinger met Ray Nance for the first time when the trumpeter came backstage to say hi at one of the concerts in the series. Though Ray didn't have his ax with him, Jack persuaded him to take to the stage to sing and dance with the featured band.

Kleinsinger is a hands-on producer, which makes the Highlights In Jazz series unique. You'll see Jack on stage, introducing the musicians and sharing his vast knowledge of jazz history. He also structures the shows, laying out a format, specifying types of tunes—perhaps a ballad, followed by something up-tempo--but leaving the specific song choices to the players. "That way, there's not eight guys standing around on stage wondering, 'What are we going to do now?' Sometimes I'm surprised by what they choose, but I trust the musicians, they're all veterans," Jack notes. His active role inspires him to continue producing the series. "I wouldn't want to just book acts for 40-some years. Producing like this is fun for me."

All lineups are subject to change without notice.


You won't want to miss a single concert of the 2018 season of Highlights In Jazz!

Don't miss any of the stellar Season 46 Highlights In Jazz events!



Thursday, May 10, 2018- 8 P.M.
Pianist Dick Hyman, trombonist, Wycliffe Gordon, bassist Jay Leonhart, saxophonist Ken Peplowski, drummer/vibraphonist Chuck Redd, and a surprise special guest!



Thursday, June 21, 2018- 8 P.M.
Guest of Honor: guitarist Russell Malone, plus saxophonists Jimmy Heath and Houston Person, drummers Lewis Nash and Willie Jones III, trumpeter Jeremy Pelt, guitarist Gene Bertoncini, vibraphonist Steve Nelson, bassist Luke Sellick, and a surprise special guest!

All Shows At

BMCC TRIBECA Performing Arts Center
Borough of Manhattan Community College
199 Chambers Street, New York, NY 10007
http://tribecapac.org

Directions
By car take FDR Drive south to end, through underpass onto West Street,
north to Chambers.

By Subway take 1, 2, 3, 9, A, C, E, J or M train to Chambers or N, R to City Hall stop. Walk west on Chambers.

Box Office 212-220-1460
Ticket Prices
$50.00
$45.00 (student rate with valid ID)
or by mail order.
$180.00 per subscription

Tickets can be purchased in advance at the box office.
You are now able to use your credit card at the Tribeca PAC Box Office located on 199 Chambers Street, or by calling (212) 220-1460 and now online at Tickets.

Tribecapac.org



Please send a check made payable to: Highlights In Jazz

Please mail orders to:
Highlights In Jazz 

7 Peter Cooper Road, Apt. 11E, New York, NY 10010
(Please enclose a self-addressed, stamped envelope)

http://www.highlightsinjazz.org

Highlights in Jazz Media Contact
Jim Eigo
Jazz Promo Services
272 State Route 94 South #1
Warwick, NY 10990-3363
Ph: 845-986-1677
Cell / text: 917-755-8960
Skype: jazzpromo


jim@jazzpromoservices.com




www.jazzpromoservices.com