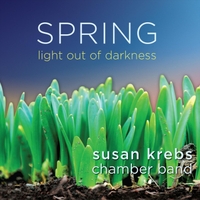 A fresh and exciting jazz approach to the classical music concept of chamber music, a truly collaborative effort of kindred spirits, creating a full and rich sound perfectly suited to Krebs' emotive voice and musical vision.
SK CHAMBER BAND:
Rich Eames (piano), Rob Lockart (woodwinds), Scott Breadman (percussion), Luis Mascaro (violin), Susan Krebs (vocal)
SPRING ~ Light Out of Darkness is SUSAN KREBS' sixth album as a leader and the second recording project for the SUSAN KREBS CHAMBER BAND. The idea for the jazz chamber band grew from salons hosted by jazz vocalist Krebs at her home, in which she and a small group of her close friends get together in front of an invited audience to explore various motifs through wide-ranging music, poetry and improvisation.
The overarching concept that binds the seven tunes on this CD is renewal. Like many people, Krebs is concerned about the problems that beset our country and, indeed, the whole world. For Krebs, change has to begin on a personal level. She connects to the world both as a musical artist and as a serious gardener, attuned to the rhythms of the natural world.
Joined by some of the finest jazz players in Southern California , the album comprises a mix of musical genres imbued with a jazz sensibility. SPRING ~ Light Out of Darkness is infused with a reverence for nature, and, as with all of Krebs' recordings and live performances, it is also filled with her hopeful vision and generous soul.
REVIEW EXCERPTS from SKCB's 1st album Simple Gifts (2015)
Potent, fecund, and essential… 5 STARS ~ All About Jazz
An album to ponder vignette by vignette. ~ DOWNBEAT
A new Jazz paradigm… fresh and beautiful. ~ Music Man Blog
Virtuosic spontaneity, tempered and 'cooked' by riveting lead vocalist ~ Jazz Music Blog
Krebs and her band sound like no one else in today's jazz world. ~ Jazz Music Archives