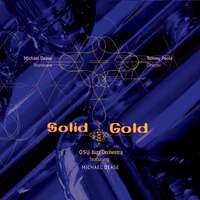 Solid Gold is the first commercially released recording by the Oklahoma State University Jazz Studies Program. The CD features two-time GRAMMY winning trombonist/composer Michael Dease backed up by the eighteen students of the OSU Jazz Orchestra.
Tracks: You Dig?; Solid Gold; Decisions; Out Front; Gorgeous Gwen; Discussao; Good and Terrible; After You've Gone.
Musicians: Tommy Poole: director; Ryan Hatcher: trumpet; Matt Herron: trumpet; Kevin Kamau: trumpet; Tyler Murray: trumpet; Noah Mennenga: trumpet (8); Charlie Chadwell: alto sax, flute; Ashley Krogstad: alto sax (1, 3, 5, 7); Marcos Alvarez: alto sax, flute (2, 4, 6, 8); Sydney Pointer: tenor sax, clarinet; Eric Stults, tenor sax, clarinet; Matthew Floeter: baritone sax (1-3, 5, 7, 8); Hayden Anderson: baritone sax, bass clarinet (4, 6); Jacob Eyler: trombone; Kyle Hunt: trombone; Paul Bussert: trombone; Dorien Tate: bass trombone; Dylan Shadoan: piano; Bradley Spears: guitar (6); Mickey Webster: bass; Matt Durkee: drums.