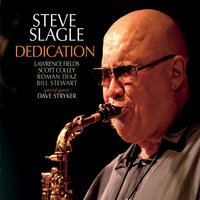 Steve Slagle's follow-up to his last much acclaimed 'ALTO MANHATTAN' is titled 'DEDICATION' and each of the 9 newly presented songs have a specific dedication listed.Included in the extraordinary 8-panel cd design is an original painting for 'Sun Song' by the great artist Ivan Palamatchev.
With Steve on Sax and flute, the cast of characters on this new work are similar and yet wholly different than Alto Manhattan.Bass and Drums are Scott Colley and Bill Stewart respectively with Lawrence 'law' Fields on piano.Dave Stryker is special guest on electric and acoustic guitars on several tracks as well as the great congero Roman Diaz.
Brimming with enthusiasm, it is a relentlessly driving recording,reaching out to a large audience.
"TO CREATE,IN THE AGONY AND THE SWEAT OF THE HUMAN SPIRIT,......SOMETHING WHICH
DID NOT EXIST BEFORE" --WiLLIAM FAULKNER,Nobel acceptance speech