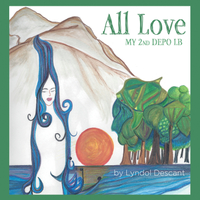 Lyndol Descant is a pianist, singer and composer originally from Texas. Currently living in Brooklyn, teaching music and soaking up the renaissance of art and music happening all around her.
She studied Jazz Piano and Composition in Paris, France after falling in love with musical improvisation. She enjoys improvising in all genres, and her compositions come from this place of pure creation.
The songs on this album reflect macro to micro the struggles facing humanity today; Sex Wars, Vicious Valentine, and Lonely Hearted talk about the toxic aspects of masculine and feminine roles and relationships. Storm speaks to the awe of nature, whilst Reeds is a song of thankfulness for the role nature has played in her life. It's also about learning to trust, something that Let You Love Me sings of as well. And her title track, produced by Colin Hua, tracks the path of a sincere women in search of real love and enlightenment, but living in a dualist world.
Her sound is unique; a blend of her Texas Folk and Rock roots, with her love of Pop and Jazz. It's true fusion, pleasing whilst rebelling, avant guard without the pretense.
This Album is her 2nd Depo LB - a term she came up with to describe the nature of this recording. She produced all the instrumental tracks in her Logic Pro Home Studio. She recorded the vocals with Casey Holford. It's both a 'Demo' and an 'EP', and the attached 'LB' signifies it's transcendence of a low budget. Something many musicians face these days, but that hasn't stopped Lyndol. And her lightheartedness and humor is felt in her music as well.