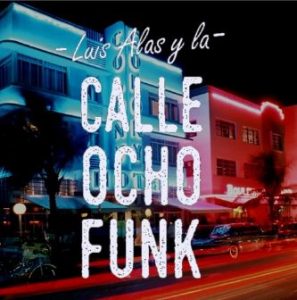 Luis Alas & La Calle Ocho Funk

Tracks:
- Chocolate
- Sippin On Jack
CD: We've Only Just Begun
Wednesday, February 14, 2018
8:30 PM 10:30 PM
Layali Lebanese Restaurant (map)
Come out for an evening of romantic music and a little spice only the way Luis Alas Y La Calle Ocho Funk can. They will be performing two sets of their original form of Latin Smooth Jazz to bring romance and dancing to every romantic whether solo or on a date.
Great drink specials Reservations are going fast, call: 305) 403-0188
Rumba Y Pasion con Luis Alas Y La Calle Ocho Funk
FEB 16
RUMBA Y PASION CON LUIS ALAS Y LA CALLE OCHO FUNK
Friday, February 16, 2018
9:00 PM 11:00 PM
This will be an intimate concert where Luis Alas Y La Calle Ocho Funk will be performing music from their soon to release collaboration album along with the amazing released originals. This will be a great continuation of Valentine's weekend. Come enjoy the best South Beach has to offer in food drink and entertainment.
Reservations are very limited, contact YUCA for your table: (305) 532-9822