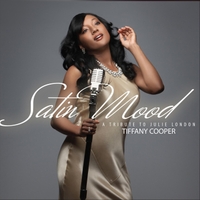 "This jazz album was created to feed my artistic soul and inspire others with great music. It's a passion project and tribute to the legendary song seductress Julie London. I'm inspired by Julie London's understated approach to the challenges she faced as a multi-faceted artist. She was both actress and singer, and this duality was often a source of confusion for the public. She touched hearts and souls worldwide with her understated, elegant and sensual renditions of classic romantic torch songs. She is one of my musical heroes. Julie London deserves to be celebrated."
Tiffany Cooper is a Jazz and Broadway vocalist, actress, dancer, executive speaker coach and arts educator whose career spans over 30 years in the entertainment industry. Her credits include Broadway, Broadway national tours, film, television, commercials, world tours, regional theaters, voice-overs, recordings, concerts, cruise ships, and live industrials.
www.Tiffanycooper.com.