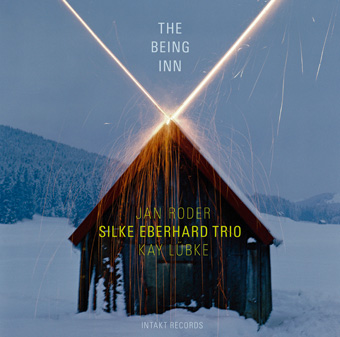 Silke Eberhard: Alto Saxophone, Bass Clarinet
Jan Roder: Bass
Kay Lübke: Drums
1. Ding Dong 5:10
2. Willisau Suite 18:12
3. Schlappen 0:48
4. Mininatür 4:12
5. Kanon 2:44
6. Towels 0:37
7. In Drei 3:35
8. Wake-Up Call 0:35
9. 8915 4:40
10. Schirm 3:59
11. Another Pint 0:35
12. Versteckter Kitsch 5:48
13. Last Order 0:38
Total Time 51:51
All compositions by Silke Eberhard.
Recorded January 2016 by Marco Birkner at Studio P4, Berlin. Mixed and mastered by Marco Birkner.
Cover art: Roman Signer. Graphic design: Jonas Schoder.
Liner notes: Peter Margasak. Photo: Rüdiger Kusserow.
Produced by Silke Eberhard and Intakt Records, Patrik Landolt.
Intakt CD 280 / 2017
Release date:
June 16, 2017
The Being Inn – ein imaginäres Gasthaus, das sich die Berliner Saxofonistin Silke Eberhard beim Komponieren ihrer Musik im Geiste vorstellte. 13 Stücke präsentiert das Trio auf dem neuen Album mit Titeln wie "Ding Dong", "Willisau Suite", "In Drei", "Another Pint" oder "Last Order": höchst originelle Kompositionen, gespielt mit musikalischer Meisterschaft, improvisatorischer Intensität, auch mit Witz und Charme.
Das Trio bewegt sich in der stolzen Tradition der Saxofon-Jazztrios. Eberhard kennt die Jazzmoderne, hat sich mit Jazzgrössen wie Mingus, Dolphy und Coleman auseindergesetzt. Aber Eberhard, Roder und Lübke setzen allein durch den Sound, den sie sich im Laufe der Jahre erarbeitet haben, und das gegenseitige Vertrauen und die zehnjährige Trioerfahrung eigene Akzente.
"In dieser Gruppe spüre ich grosse Freiheit", sagt Silke Eberhard über ihre Zusammenarbeit mit dem Bassisten Jan Roder und dem Schlagzeuger Kay Lübke. Obwohl sich das Trio erst 2006 formierte, reicht ihre Geschichte mit den beiden Musikern bis in die Mitte der 90er-Jahre zurück, und die intensive Beziehung der drei ist in jedem Ton zu hören.
Intakt