JAZZ ON BLEECKER
STREET
At the
SHEEN Center
In The Heart of Historic Greenwich Village

Final Show For This Series



Friday, April 21st 7:30pm


Elegantly Brazilian with the REQUINTE TRIO
JANIS SIEGEL-NANNY ASSIS-JOHN di MARTINO
Special Guest: RANDY BRECKER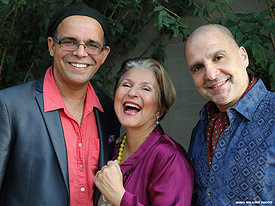 "Elegantly Brazilian" with the REQUINTE TRIO (and Band) combines JANIS SIEGEL, renowned vocalist
and founding member of
'The Manhattan Transfer", NANNY ASSIS ,the very talented Percussionist/Vocalist/Composer who is a native of Salvador, Bahia, and JOHN di MARTINO, one of the most in-demand Jazz Pianists on the scene. They bring together the musicality born of their varied cultures and musical experiences creating a soulful blending of enormous talent. It's an elegant taste of Brazil with Paul Meyers on Guitar and Leo Traversa on Bass.
Special Guest: RANDY BRECKER
Tickets & Info
JAZZ ON BLEECKER
STREET
All Shows

7:30 pm

In The
Loreto Theater
Pat Philips-Stratta: Curator and Producer
The SHEEN CENTER FOR THOUGHT & CULTURE, a new state of the art Performing Arts Center in the East Village/NoHo announces the launching of their new JAZZ SERIES, 'JAZZ ON BLEECKER STREET', a new home for some of Jazz's finest! The beautiful 270-seat theatre will present a wide variety of Jazz genres and aspire to showcase original sides to America's national treasure, Jazz.