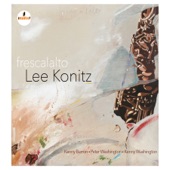 Alto saxophone jazz master, Lee Konitz teams up with pianist Kenny Barron, bassist Peter Washington for his first ever release on Impulse!, Frescalalto. The quartet covers jazz standards and breaths new life into works such as "Stella By Starlight" and "Body and Soul."
"Not many jazz improvisers manage to remain inquisitive, unpredictable, uncategorisable and entertaining throughout a six-decade career, but the 89-year-old Chicagoan alto saxophonist Lee Konitz is a momentous exception. Konitz's sound was honed in the 1950s cool school, and his sax became the tap from which poured streams of fresh melody on any theme or harmony, or on none. That said, this straight-ahead set is predominantly a vehicle for the fine pianist Kenny Barron's trio, with Konitz leaning in for some characteristically pungent sax propositions and asides, and some quirky scat vocals.
He's unhurriedly and laterally melodious on Stella By Starlight. His arrival midway through Thingin' is impeccably timed (though his closing solo is faded just as he seems to be breaking into a trot). He sounds like Mark Murphy singing very slowly on Darn That Dream, and is poised and thoughtful on the swinging Kary's Trance. For Konitz fans like this one, it's fascinating – but first-time investigators of this unique artist might want to start a little further back in his career."
(THE GUARDIAN)