JAZZ WOMEN OF NEW YORK (JWNY)

Newly Formed All-Women Jazz Band enters NYC Circuit

Celebrating Women In Jazz Month



Sunday, March 26th

@ 4pm
Metropolitan Room
32 West 22nd Street (bet. 5th & 6th Aves)
New York, NY 10010
$15 Cover - Advance reservations highly recommended: (212) 206.0440
Tickets & Info
Jazz Women of New York is a new all-woman band conceived by vocalist Lee Torchia. The core group is pianist Jill McManus, bassist Melissa Slocum, drummer Sylvia Cuenca, flutist Andrea Brachfeld, and saxophonist Carol Sudhalter, with occasional subs from the female side of NY jazz. The group arose from a shared desire to prove that women in jazz are a force to be reckoned with. Each member is a leader and has played with a who's who of classic swing era and bop musicians. Bringing their lifetime experiences to this new platform, the group plays the American songbook standards "Let's Fall in Love", "Loverman" "Them There Eyes", jazz classics Charlie Parker's "Confirmation", Abbey Lincoln's "The World is Falling Down", originals and multicultural jazzraga fusion. These female artists play with fire, warmth and sophistication and are ready to delight listeners in New York venues. It's going to be quite a show so come prepared to enjoy!

Lee Torchia's CD Loverman: A Tribute to Billie Holiday, features an all-star rhythm section: Ram Ramirez, Milt Hinton, Mel Lewis and Ricky Ford on sax. She has performed with many other jazz luminaries including Walter Bishop, Jr., and Slide Hampton. Her weekly cable TV show, "Lee Torchia Sings," focuses on her 20 years of work as a North Indian Classical Raga singer and tambura player.

Pianist Jill McManus has performed with Tom Harrell, Joe Lovano, Pepper Adams, Frank Wess, Richard Davis and others. Her album Symbols of Hopi (Five ***** in Down Beat), with Dave Liebman, Harrell and others, contains adaptations of Hopi Indian chants with her unique jazz style.

Melissa Slocum, long-time bassist for the hit Broadway show Phantom of the Opera, has played with an impressive list of leaders that includes Art Blakey, Clark Terry, Woody Shaw and Hank Jones, among many others.

Sylvia Cuenca was a semi-finalist in the1992 Thelonious Monk International Drum Competition, a member of Joe Henderson's quartet for 4 years and Clark Terry's quintet for 17 years, and has backed many top jazz artists.
Andrea Brachfeld was Hot House Magazine's choice for "Best Flutist" of 2015, and has made seven jazz and Latin recordings that exhibit her high-spirited style and solid originals.
Carol Sudhalter, best known for her lusty and yet poetic baritone sax sound, also plays tenor and lively flute. She continues to lead the Astoria Jazz Big Band, which she founded in1986. With many albums to her credit, Carol was Top-10 flutist in the 2012 Down Beat Readers' Poll.

Click here
for short video presentation of the group.
Press Contact: Lee Torchia:
Lee@jazzraga.com
917-624-0325, or Jill McManus at
jimac4@verizon.net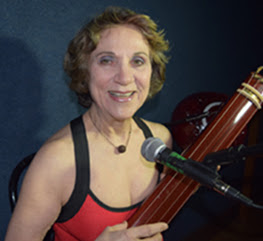 Lee Torchia's CD, Loverman: A Tribute to Billie Holiday, features Ram Ramirez, Milt Hinton, Mel Lewis, and Ricky Ford. She has performed with many jazz greats including Walter Bishop, Jr., Slide Hampton and Richard Muhal Abrams. Lee heard the call of Woodstock and became a 20-year disciple of the North Indian Classical Raga singer Pandit Pran Nath, traveling often to India. She has performed raga widely in U.S., was adjunct faculty in Raga Vocal at the New School Jazz Department, and was feature singer for the final hour of WKCR's "24-Hour Raga Live Festival in 2013. Lee has combined these two classical forms to create the fusion she calls JazzRaga. Lee is a recipient of a NEA Grant and is currently producing and performing on her NYC MNN Cable Television Show: "Lee Torchia Sings" Mondays @

2:30 pm

. Website:
www.jazzraga.com
Pianist and composer Jill McManus studied with Roland Hanna, and led the path-breaking all-female group the Jazz Sisters. She had her own groups at such clubs as Sweet Basil and Seventh Avenue South, and played in duo with top bassists at Bradley's, the WPA, Garvin's, and many more, most recently, at Sofia's in the Hotel Edison for over 15 years. She recorded her first album, As One, with Richard Davis in 1977. From 1981, she worked with the Pepper Adam's Quartet, and with Frank Wess, and taught for a decade at Mannes College of Music's Extension Division, and privately. Collaborating with two Hopi Indian song-composers in Arizona, she blended their chants with jazz for the album Symbols of Hopi (Concord Records, 1983) with Dave Liebman, Tom Harrell, Marc Johnson, and Billy Hart, and guests Louis Mofsie (Hopi/HoChunk) on cottonwood drum and Alan Brown on rattles, which won five stars in Down Beat. In 2004, she recorded Spring is Here with bassist Bob Arkin.
Melissa Slocum has been the bassist for The Phantom of the Opera since 1999. She has been performing worldwide since 1982 and has worked with such legends as Art Blakey, Lionel Hampton, Cab Calloway, Clark Terry, Wynton Marsalis, Woody Shaw and Hank Jones. Comfortable in genres ranging from duo to big band, traditional to avant garde, she has performed and recorded with Charli Persip and Superband, Ralph Peterson and the Fo'tet, Avery Brooks with Craig Harris, Howard Johnson and Gravity, Dakota Staton, Kevin Mahogany, the Firey String Sistas and the all woman big band DIVA, among many others. She has worked with bandleaders Eddie Chamblee, David "Fathead" Newman, Frank Wess, Hamiet Bluiett, Don Byron, Jay Rodriguez, Frank Lacy and Nioka Workman; pianists Walter Davis, Jr., James Williams, John Hicks, Kirk Lightsey, Cyrus Chestnut, Roy Merriwether, Henry Butler, James Weidman and Darrel Grant to name a few. She has played for numerous vocalists including Dee Dee Bridgewater, Nnenna Freelon, Michelle Lee, Maurice Hines, Jeannie Bryson, Leon Thomas, Jon Hendricks, Michelle Hendricks, Ann Hampton Callaway and Dianne Reeves. Television appearances include Newport Jazz Festival 1999, Kennedy Center 25th Anniversary Gala, BET Interview, CBS

Sunday

Morning, CNN with the Kevin Mahogany Quintet and CBS News with Lionel Hampton. Ms. Slocum holds a Master of Music in Jazz Studies from the Manhattan School of Music. She studied jazz bass with Lisle Atkinson, Stafford James, Milt Hinton, Rufus Reid and Ron Carter. She received an NEA grant for jazz study in 1986. Website:
www.melissaslocum.com
Sylvia Cuenca
Early in her career on the New York jazz scene, drummer Sylvia Cuenca had the honor of sharing the bandstand with saxophone legend Joe Henderson as a member of his quartet for four years, and with trumpet star Clark Terry in his Quintet and Big Band for 17 years. Cuenca has performed with jazz singers Etta Jones, Helen Merrill, Catherine Russell, Dianne Reeves and Dianne Schurr, as well as top instrumentalists such as Billy Taylor, Frank Foster's Loud Minority Big Band, Kenny Barron, Ray Drummond, Michael Brecker, George Cables, Jon Faddis, Eddie Henderson, Gary Bartz, the European based Vienna Art Orchestra. In 1988 and 1991 Cuenca received jazz performance grants from the National Endowment for the Arts and in 1992 she was a semi-finalist in the Thelonious Monk International Drum Competition. She was an artist-in-residence at various universities in the U.S. and Europe with the Clark Terry quintet, Eddie Henderson quartet and as a leader with her own groups. In 2014 she received a B.A. degree in Jazz Performance from Empire State University in NYC.
www.sylviacuenca.com
Andrea Brachfeld Flutist, composer, arranger, producer, educator, and business owner Andrea Brachfeld began her professional career as a musician at age 16. A graduate of The High School of Music and Art and the Manhattan School of Music, it was her breakthrough performance as the flutist for the popular Latin band Charanga '76 that catapulted her into Salsa history. She has recorded and played with Tito Puente, Ray Barretto, Joe Newman, Hubert Laws, Nestor Torres, Dave Valentín, Paquito D'Rivera, Kenwood Dennard, Hilton Ruiz, Steve Turre, Wycliffe Gordon, Wallace Roney, and Bill O' Connell, and received several Jazz and Latin music awards. She has performed at Jazz Festivals in Havana, and Peru, and she was awarded the title of "Best Jazz Flutist" by Hot House Magazine in 2015 when her seventh recording and second jazz CD, Lotus Blossom (Jazzheads Records), won wide acclaim.
www.andreabrachfeld.com
Saxophonist Carol Sudhalter, best known for her lusty and yet poetic baritone sound, also plays robust tenor sax and lively flute. With many albums to her credit, Carol was a Top 10 flutist in the 2012 Down Beat Readers' Poll. As a member of the first all-female Latin Fever band, she played at the 1978 Salsa Festival at Madison Square Garden alongside Tito Puente. In 1986, she formed her own Astoria Big Band, which plays annual concerts at Flushing Town Hall and elsewhere. From 1991 to 2005, Carol was a featured player at the Cajun Restaurant in New York, becoming the group's leader in 2003. Since then, she has performed at Dizzy's Club Coca Cola, Birdland, Iridium, at the JVC Festival in New York and the Mary Lou Williams Festival at Kennedy Center, as well as in Italy at Umbria Jazz in Perugia and JazzAscona in Locarno, and tours in Italy every year.
https://sudhalter.com/