Dave Chamberlain's
BAND of BONES presents
"DANCEABLE DUKE"
the music of Ellingtonia (Duke, Strayhorn, and Tizol)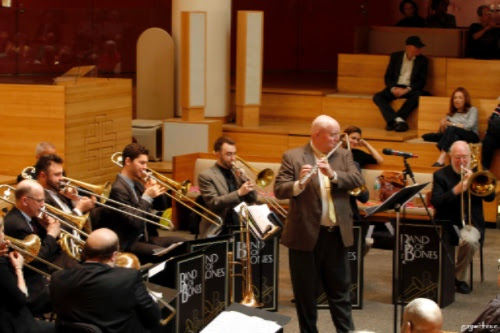 Featuring Dancer/Choreographer
MERCEDES ELLINGTON



and Guest Vocalist
ANTOINETTE MONTAGUE






TUESDAY DECEMBER 6th at 8:00 PM



Christ & St. Stephen's Church
120 West 69th Street
Between Broadway & Columbus
$20 Suggested Donation

www.bandofbones.com
Call 646-373-5372 for further info

#1, #2, #3 IRT trains to 72nd St.

"The best big band you've never heard about!" HOT HOUSE
"A sound that demands attention!"
WABC Radio
We are thrilled to present this collaboration of BAND of BONES with the music of the masters of Ellingtonia and Duke's granddaughter MERCEDES ELLINGTON.

Music will include Cottontail, Mood Indigo, A Flower is a Lovesome Thing, Caravan, Perdido, and many more.

Also featuring guest vocalist ANTOINETTE MONTAGUE.

"Mercedes Ellington is a modern day dance pioneer. As a dancer, choreographer, and teacher, she has contributed significantly to artistry in the entertainment world.

Daughter of Mercer Ellington, and granddaughter of Duke Ellington, she made history as the first African-American in the June Taylor Dance Troupe. Ms. Ellington has appeared in numerous Broadway productions, including Sophisticated Ladies (featured dancer and assistant choreographer), No No Nanette, Hellzapoppin', The Grand Tour, and The Night that Made America Famous. Other credits include Balle Tap USA (artistic co-director, later re-named DancEllington), Alvin Ailey American Dance Center, and she is a noted jazz tap teacher."
ENCYCLOPEDIA.COM