Thursday, January 5th 8pm-11pm


Dave Stryker Quartet
Appearing @
Chickie Wah Wah
2828 Canal St
New Orleans, LA 70119
(504) 304-4714
www.chickiewahwah.com

Dave Stryker-guitar
Michael Pellera - piano
Martin Masakowski - bass
Brian Richburg Jr - Drums

JEN Attendees Welcome!
1.4 mile cab ride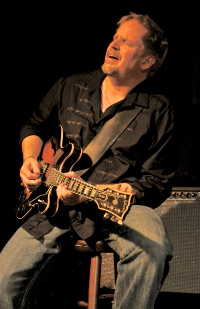 Whether you've heard guitarist Dave Stryker leading his own group (with 26 CD's as a leader to date), co-leading The Stryker/Slagle Band, Blue To The Bone or as a featured sideman with Stanley Turrentine, Jack McDuff, and many others, you know why the Village Voice calls him "one of the most distinctive guitarists to come along in recent years." His latest CD Eight Track II has stayed in the Top Ten of the JazzWeek radio chart for 16 weeks and has made many Best of 2016 lists.

Dave Stryker was voted once again into the 2016 Downbeat Critics and Readers Polls. Besides his own recordings Stryker has appeared as a sideman or producer on over 100 others. As a composer he has recorded and published over 150 original compositions. He is involved in passing it on, and was recently hired as the new Jazz Guitar instructor at Indiana University Jacobs School of Music.

. … One of the most joyous feels around. -Pat Metheny

Media Contact
Jim Eigo Jazz Promo Services
Ph: 845-986-1677 /
jim@jazzpromoservices.com
"Specializing in Media Campaigns for the music community, artists, labels, venues and events."
National Radio Campaign
KATE SMITH PROMOTIONS of CHICAGO