REEDS AND DEEDS PROJECT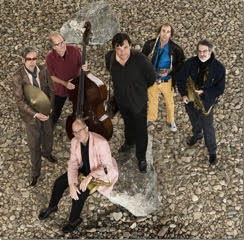 Zaterdag 27 augustus
ZomerJazzFietsTour 2016
Route 1-Schurr Hans (Hans' Barn)
13.15-set one; 14.30 set two
Featuring musicians from
Willem Breuker Kollektief
and
ICompani
, Reeds and Deeds is a project dedicated to Rahsaan Roland Kirk.
with
Frans Vermeerssen
saxes
Alex Coke
saxes, flutes
Bo van de Graaf
saxes
Michiel Braam
piano
Arjen Gorter
double bass
Makki van Engelen
drums
The ZomerJazzFietsTour
's 30th edition shows the Reitdiep valley at its best. Cycling through this magnificent area of the province of Groningen, the Netherlands, you can make your pick of 32 concerts in medieval churches and barns.The JazzBikeTour presents a varied programme featuring contemporary jazz and improvised music.The latest developments in jazz and related music may be explored on bike.
Ticket sales start on July 1st.
http://www.zjft.nl
Presale until 21 August
Euro 32,50 ZomerJazzFietsTour passe-partout
Euro 27,50 reductions (CJP/Stadjerspas/Studentenkaart
Full price from 22 August
Euro 37,50 ZomerJazzFietsTour passe-partout
Euro 32,50 reductions (CJP/Stadjerspas/Studentenkaart)
Children under 16 Euro 2,50
for more info:
http://www.zjft.nl/2016/nl_programma.php
OR
https://www.facebook.com/events/246652429047316