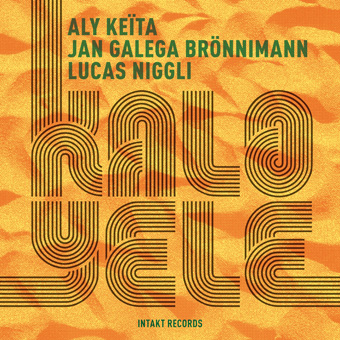 Aly Keïta: Balafon
Jan Galega Brönnimann: Bass Clarinet, Contrabass Clarinet, Soprano Saxophone
Lucas Niggli: Drums
1. Kalo-Yele (Keïta) 5:00
2. Nyanga (Brönnimann) 4:54
3. Bean Bag (Niggli) 6:04
4. Mamabamako (Brönnimann) 5:13
5. Makuku (Keïta) 4:47
6. Langa (Brönnimann) 4:10
7. Abidjan Serenade (Brönnimann) 5:06
8. Dreams of Mikael (Keïta) 6:04
9. Bafut (Brönnimann) 4:29
10. Adjamé Street (Keïta) 4:58
Total time 51:13
Aly Keïta is one of the grand masters of the balafon, the West African xylophone. The Ivorian musician fits the balafon in interaction with artists such as Joe Zawinul, Omar Sosa and Jan Garbarek. Together with the Swiss clarinetist Jan Galega Brönnimann and Swiss drummer Lucas Niggli Keïta mixes the traditional African repertoire with Western jazz, Improvisation and African rhythms. This "Brotherhood of vibes and grooves" takes the audience on an adventurous ride.
The first element that underlies "Kalo-Yele" ("moonlight" in Bambara) is a human and affective dimension, whose origin lies many miles from Switzerland and several decades before the three musicians entered the studio. Niggli and Jan Galega Brönnimann were actually born in Cameroon and they have been friends since they were… one year old! So, they spent their youth to the sounds and rhythms of West African music.
Thierry Quénum writes in the liner notes: "If you ever wanted to try and classify the repertoire and interaction of these three musicians, I'd just have to wish you good luck! For each of them can handle the melody as well as the rhythm, or sail close to the jazz coasts as easily as near the banks of so called "world music".