Todd Coolman & Trifecta
Celebrate The Release Of Their New CD
"Collectables"
Wednesday &

Thursday May 25-26


@ SMOKE
Sets 7,

9 & 10:30pm

Todd Coolman on the Radio
Wednesday, May 4 @ 9:00pm WBGO 88.3 FM
w/ Awilda Rivera
Thursday, May 19th 7pm

WKCR 89.9 FM
with Sharif Abdus Salaam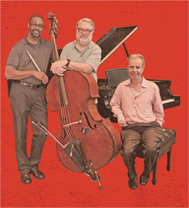 Todd Coolman & Trifecta
"Collectables"
(Sunnyside SSC 4025)
Street Date: May 20, 2015
Todd Coolman, bass, Bill Cunliffe, piano, and Dennis Mackrel, drums

I like to collect things. Mind you, I am not a really serious collector, the kind who eventually sells his collections for thousands of dollars or has them placed in the Smithsonian, but my collections are instead sort of a personal hobby that I enjoy when I have leisure time. Among my many unrelated collections are baseball hats and ephemera, antique fishing tackle, drawings and photographs of birds, wristwatches (I am fascinated with the idea of time, generally), and various categories of books. I can't really say why I maintain such collections, but these things interest me for various reasons, and my collections are generally associated with pleasant memories.

So, it stands to reason that when I set out to record what is now my fourth CD as a leader (bassists, generally, are seldom bandleaders), that I would "collect" a repertoire of enjoyable and memorable tunes chosen from the thousands I have either heard or played (i.e. collected) over the years, thus beginning my first "tune collection." This of course leaves room for adding to my collection at any point in the future, so I see it as an open ended venture.

I also set out to "collect" special musical collaborators; people I have especially enjoyed performing with over the years. That is no easy task, as I have been honored and fortunate to play with so many world-class musicians throughout my career. For this specific project, I chose to go with a classic trio format (piano, bass, and drums), as it is one of my favorite configurations. I believe the first time I played with Bill Cunliffe and Dennis Mackrel together in a trio setting was within our faculty roles at the Skidmore Jazz Institute that I now direct. From the first time we played, there was an immediate, "hook up" filled with empathy, support, humor, intensity, sensitivity, swing, and almost every other desirable musical and personal trait one could ask for. Performing together more recently, I sensed that we had "reached another gear" so to speak and were getting somewhere even more special musically. Having them join me for this recording became an easy and natural choice, since when we first got together several years ago, we have had great times in performance both as a stand-alone jazz trio, and also as a trio "backing up" other estimable soloists. We are versatile, and love to play in either context.
I am grateful for the arranging contributions of Renee Rosnes (Summer Night), Bill Cunliffe (We'll Be Together Again, You're My Everything, Three And One, and Isn't It A Pity), Dennis Mackrel (With All My Love), and the trio for "concocting" arrangements for the rest of the tunes.

By now, the reader can easily see why this recording is entitled, "Collectables" but it may be less obvious as to why our trio is called, "Trifecta." Of course, the prefix "Tri" suggests "three" but "Trifecta" is a term derived from thoroughbred horse racing and Pari-Mutuel betting. Since this trio first performed several years ago in Saratoga Springs, New York, home of one of the world's major thoroughbred racing tracks, and since this very recording took place in Saratoga Springs as well, the name seemed fitting.
So now it is time for me to share my latest collection with you, the listener. I hope you will agree that the music contained here is special and heartfelt, therefore earning the moniker, "Collectables." Hopefully this will find a special place in some collection of your own.
By Todd Coolman, New York City, 2016
Artist Website:
www.toddcoolman.org
Label Website:
www.sunnysiderecords.com
Photo credits:
Trio photo: Terri-Lynn Pellegri
Front cover image of Todd: Chris Drukker
National Sawdust (NS), an unparalleled, artist-led, non-profit venue, is a place for exploration and discovery. A place where emerging and established artists can share their music with serious music fans and casual listeners alike.