AVAILABLE NOW via Musikoz:
Guitarist OSCAR PE
ÑAS Showcases Diverse Cultural Influences with Release of
Music of Departures and Returns
Esperanza Spalding, Gil Goldstein and Paquito D'Rivera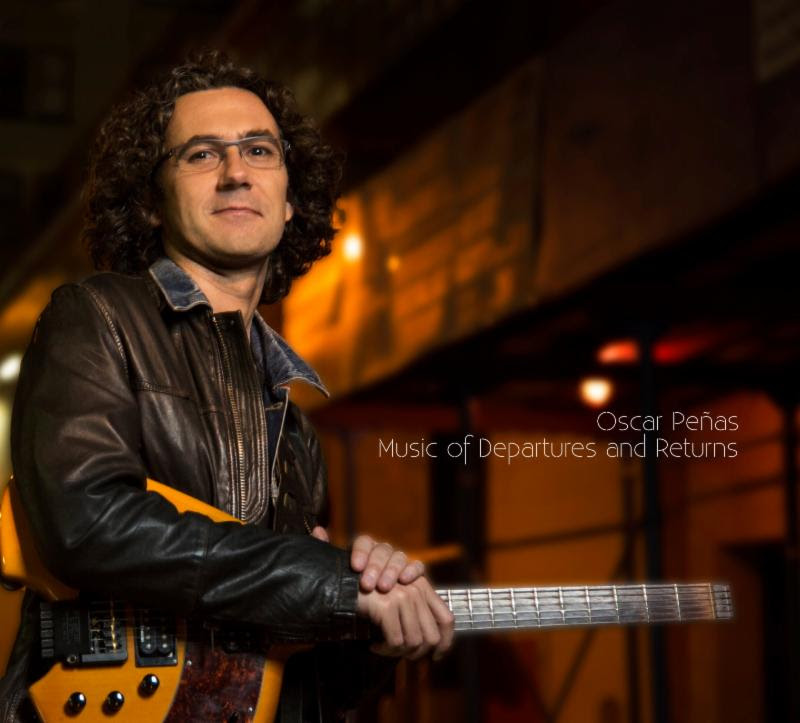 "Oscar is a beautiful player with a totally unique sense of
sound and color in his writing." - Esperanza Spalding
"Oscar Peñas has a very well-traveled musical passport. Born in Spain,
he sounds like a citizen of the world, crossing musical borders with
quick and sure footing. I have seen his style develop and expand in the
past 5 years I have known him and have been happy to be a passenger
on his journeys. I am sure he will continue to develop and expand and
we all wait for his next musical travels." - Gil Goldstein
Catalan guitarist, composer and bandleader Oscar Peñas´ fourth album and second release in the United States, Music of Departures and Returns, includes a Brazilian choro and a tribute to flamenco master Paco de Lucia; a jazz standard and a classic from the Cuban Nueva Trova songbook; and music by the great Catalonian composer Frederic Mompou. Yet this is neither a music sampler nor a showcase of Peñas´ talents in different settings and styles.
"This is more or less who I am. I'm not trying to push boundaries, prove anything or show off in any
way," explains Peñas. "It's a collection of pieces, some mine, some by other composers that I have always admired, that I felt had a common mood, a certain sound that reflects my personality and where I come from."
Music of Departures and Returns features his quartet, comprised of his long-standing rhythm section featuring six-string electric bassist Moto Fukushima, drummer Richie Barshay, and violinist Sara Caswell. The band is augmented by special guests such as bassist and singer Esperanza Spalding, reedman Paquito D'Rivera and pianist, producer and arranger Gil Goldstein who appears on accordion.
Born in Barcelona, Peñas began his career in music studying classical guitar as a child. He graduated with honors from Berklee College of Music and later earned a Masters Degree in Jazz Performance from New England Conservatory before settling Brooklyn. He arrived at his musical discoveries step by step.
"I started to explore jazz a bit out of boredom. As a teenager (and still is the case) it was more appealing to me to pick up my own melodies within a style and interact with other musicians than spend hours of solitude trying to perfect a technical dexterity and devote my youth to learn a repertoire by others. Discoveries and interests come sometimes erratically... listening to Pat Metheny's Letter from Home or Wayne Shorter's Native Dancer you end up coming across Toninho Horta, Gismonti or Milton [Nascimento] and their music opens doors to a sea of possibilities, that's
how I learned about choro.
"I didn't study choro, but listened to a lot of them

and love Pixinguinha and Guinga. If you ask a purist, maybe he won't approve of the form or the harmonies of 'Paquito's Choro,' but this is my unpretentious take on it."
As for incorporating all these influences, "there was never a grand plan," he says. "I've been finding music and what I liked, I researched it and add it to my music. I was not born here and I did not grow up here. I like these different styles as much or more than bebop. Settling in NYC was a kind of wake-up call as I realized that in order to break through in the most vibrant scene on the planet I had to be honest and that meant digging into my own culture to find a personal voice."
Oscar Penas -
Music of Departures and Returns - EPK
Upcoming Oscar Peñas Tour Dates:
April 18 / BAMcafé / Brooklyn, NY
November 7

/ Strathmore / Bethesda, MD
Oscar Peñas · Music of Departures and Returns
Musikoz · Release Date: April 15, 2014
For national media inquiries, please contact:
DL Media · 610-667-050
Information and press materials (including album covers, promotional photos
and bios)