Guitarist FREDDIE BRYANT Releases His Most
Personal Recording to Date on Dreamscape: Solo-Duo-Trio
Available

April 1

via GJKSounds
Album Features Performances by
Chris Potter and Scott Colley
"Guitarist Freddie Bryant is a rhythmic and melodic sponge.
Put him in any musical situation, be it classical, jazz, funk, Senegalese, etc.,
and he'll tend to become one with the music." - DownBeat
Imbued with guitarist Freddie Bryant's inimitable touch, inherent soulfulness and the element of surprise, Dreamscape: Solo-Duo-Trio (available

April 1

on GJKSounds) is also marked by the guitarist's ability to seamlessly traverse the classical-jazz divide on this collection of jazz standards and compelling originals. As a follow-up to his dynamic recording with his band Kaleidoscope (2012's Live Grooves...Epic Tales), Bryant gets intimate on his latest release, Dreamscape: Solo-Duo-Trio.
Alternating between nylon string classic guitar, archtop jazz guitar, 12-string acoustic and electric guitar, Bryant does some skillful genre hopping on this emotionally charged outing. "This album is a highly personal portrait of my influences from straight-ahead to Brazilian and classical guitar but also the key factor of my parents who were consummate concert artists," notes Bryant.
Joining Bryant for duo and trio numbers on Dreamscape are two acclaimed musicians and bandleaders in their own right -- multi-reedist Chris Potter (performing on tenor and soprano saxophones as well as bass clarinet) and bassist Scott Colley. "I played with them back in the late '80s-early '90s," Bryant recalls, "and their playing was always exceptional. They can play anything, and they play it beautifully and interactively too."
Easily Bryant's most personal and revealing project to date, he performs several solo guitar pieces on Dreamscape, ranging from Thelonious Monk's lyrical "Ask Me Now" to a rich chord melody treatment of Charles Mingus' "Goodbye Porkpie Hat." Bryant also includes a beautiful interpretation of Bruno Martino's melancholy ballad "Estate" along with a buoyant, bossa nova/samba take on "Secret Love."

"I wanted to do a project that didn't have drums in it, principally because there's something that happens to the clarity of sound of the guitar when you have cymbals ringing and drums beating," says the guitarist. "Of course, I love drums, but there's an intimacy that you get when you have a microphone right in front of a guitar and nothing else. When I was a kid I used to sit under the piano and just listen to my father play. That's the setting I wanted to convey."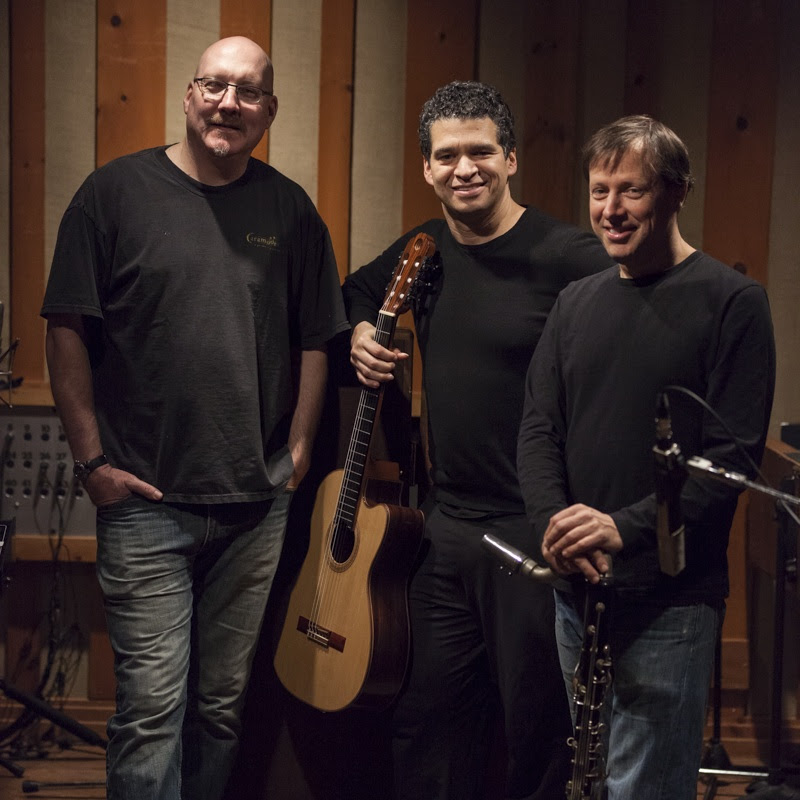 Scott Colley, Freddie Bryant, and Chris Potter
Photo Credit: Fernando Azevedo
Bryant grew up in a musical household with his parents, who were both renowned performers on New York's classical and opera scene. In fact, he began turning pages for his concert pianist father at the age of six. Bryant has already dedicated an album to his father, who passed away when he was in college, but now decided it was time to honor his mother for such an important role in his musical development.
To that end, Bryant composed the piece "Songs," which is based on tunes he remembers hearing his mother sing. He closes out Dreamscape with a snippet of a 1974 recording from New York's Alice Tully Hall that has his mother, Beatrice Rippy, singing the uplifting spiritual, "I'm Going to Tell God All of My Troubles," accompanied by her husband, Carroll Hollister, on piano. Bryant also performs a new arrangement of that same powerful tune on classical guitar as a duo with Potter on bass clarinet. On the three other trio tracks on Dreamscape, Potter plays soprano sax on the bristling title track, switching to bass clarinet on the suite-like "Songs," which travels from work song form to hymn to gospel vibe, and rounding off on tenor saxophone for the aptly titled "Everyday is the End and the Beginning of Life Beautiful" which Bryant wrote on December 12, 2012, the date which marks the supposed end of the world from interpretations of the Mayan calendar.
Bassist Colley, a longtime duo partner with the late, great jazz guitar legend Jim Hall, makes an indelible connection with Bryant on two companion duo pieces -- the gentle, chamber-like "Vignette #1," which has Bryant on nylon string classical guitar, and the lively and contrapuntal "Vignette #2," which features Bryant on electric guitar. "Scott has a beautiful tone and great ears," says Bryant of the in-demand bassist. "I always thought of him as such a fluid player, and he's a very melodic improviser too. It was a joy to play with him."
In a bit of coming-full-circle synchronicity, the liner notes to Dreamscape were written by guitar great Gene Bertoncini, who along with Charlie Byrd, pioneered the merging of finger-style nylon string guitar and jazz repertoire. "Gene was one of my first jazz teachers," says Bryant. "He was creating these beautiful arrangements that were masterpieces of classical guitar but were still jazz. And I met him at a time when I kept my jazz playing completely separate from my classical playing. And that summer Gene taught me so much about jazz and musicality that I had enough to study for the next 10 years.'
Dreamscape: Solo-Duo-Trio will confound those looking to put guitarist Bryant in a stylistic box as it reaches out to those who simply enjoy good music. "I grew up with straight ahead jazz and I love swinging with great jazz musicians like Ben Riley and Tom Harrell," he says. "I love that and it's totally me. I still play straight ahead but I also play Brazilian music and classical music. And now this recording makes it a little bit harder to categorize me. For me, that's a positive thing. And that's why I'm rejoicing in being able to play all these different styles of music on these different instruments and have them recorded in such a beautiful way in this intimate setting."
Freddie Bryant Album Release Performance:
March 31

/ Smalls Jazz Club / New York, NY
Freddie Bryant ·
Dreamscape: Solo-Duo-Trio
GJKSounds
· Release Date:
April 1, 2014
For media information, please contact:
Serving the Finest in Jazz Since 1988
Information and press materials (including album covers, promotional photos